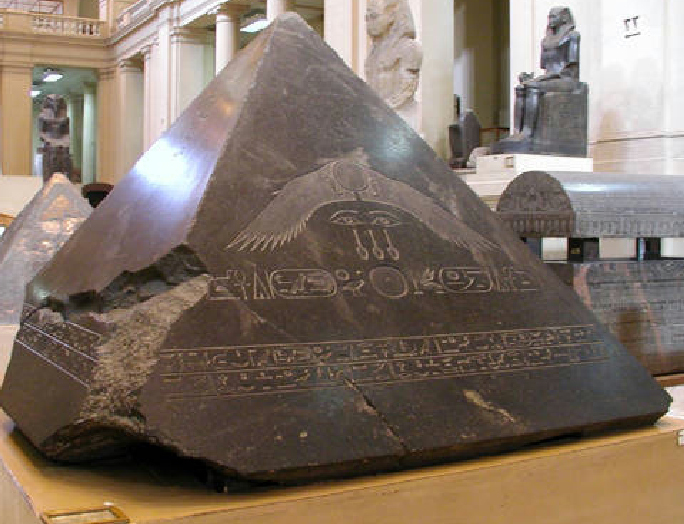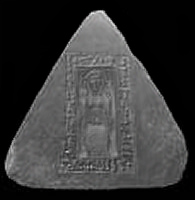 The obelisk may be the Egyptian representation of the Sumerian Din.Gir. It has the three parts of cap, shaft and base. But it is the capstone, the pyramidion, which is the most interesting part. It was traditional to encase this cap stone in gold metal or a mixture of gold and silver called electrum. Electrum is a naturally occurring gold in Egypt and is sometimes called Egyptian Red Gold.
It is generally accepted that the Benben stone at Heliopolis was a meteorite and that it was conical in shape.
This pyramidion is also known in another form as the Benben stone. This stone represented the first ground in the shape of the pyramid.
It is the spot that the god Atum (Egypt's first god) brought everything into existence.
It arose from the waters of earth.
It is the Primeval Mound, the "let dry land appear. And it was so."
In this context it relates directly to the Sumerian and Babylonian concept of the primitive hill.
This pyramidion became the residence of Atum the sun god who later became assimilated with Ra as Ra-Atum. Lastly this Benben stone represented the star-soul of the departed pharaoh. If the Benben housed the spirit of Atum (also Ra) then it may explain why the solar winged disk is inscribed on capstones and why beings, supposedly a god/gods, are shown in a doorway on the gray capstones above. As for as the Benben being spirit indwelt this seems to extend in Egypt to Atum/Ra alone. My speculations on this is that Atum being the oldest god may carry associations that are the closest to Sumerian. That would include the Benben with a connection to the winged solar disk, the soul residing within the Benben and the Benben being a representation of the hub, the pointy object, of the winged disk both as a carrier of souls but also as a capsule.